Research and Education Foundation
Mission
Established in 1968, the Nebraska Cattlemen Foundation's mission is to advance the future of Nebraska's Beef Industry by investing in research and education programs. The Foundation's success and its ability to endow scholarships, sponsors leadership and education programs, assist with research and infrastructure projects have been possible only because of the support from Nebraska cattle producers and allied industries. 
Nebraska Cattlemen Foundation Youth Scholarships
The Nebraska Cattlemen Foundation (NCF) offers scholarships to qualified youth in Nebraska who have an interest in the beef industry. These scholarships are provided through contributions received by NCF. 
The Nebraska Cattlemen Beef State Scholarship awards a $10,000 scholarship to an outstanding college junior, senior, or graduate-level student. Eligible students must be residents of Nebraska and be enrolled in a Nebraska college or university pursuing a beed industry-related degree. The scholarship will be awarded based on student needs, Nebraska beef industry involvement (past achievements and future plans), and academics. 
The NCF offers numerous other scholarships with a $1,000 minimum that are awarded on the basis of academic achievement, beef industry involvement, and goals/quality of application. 
All scholarship application periods have closed for 2023. 
Annual Retail Value Steer Challenge
The NCF accepts donations of steers for the Annual Retail Value Steer Challenge (RVSC) feeding competition. 
The Retail Value Steer Challenge raises money to support:
Youth and adult scholarships
NCF education programs and scholarships
NCF research programs and infrastructure projects
History preservation
Judging teams at the University of Nebraska-Lincoln, Northeast Community College, and Nebraska College of Technical Agriculture
The NCF welcomes steer donations by individuals, businesses, groups of individuals or businesses, and Nebraska Cattlemen affiliates. Donors can donate their own steer or purchase one from the Foundation. Donors do not have to own the whole steer with options to own 1/4, 1/3, or 1/2 available. Contributors should contact their tax professional as to the tax deductible status of this contribution. NCF is a 501(3)(c) entity. 
The 2023 RVSC is closed and more details will be posted on this page for the 2024 RVSC as they become available. 
Help Us Grow
As the Foundation grows, expands, and moves forward in its mission to raise funds for educational and scientific activities that benefit the state's beef producers - the board asks you to consider investing in your industry through the Foundation. 
The Nebraska Cattlemen Research and Education Foundation Fund was established to build endowments to support the Nebraska Cattlemen Research and Education Foundation, a 501(c)(3) organization.
As an affiliated fund of the Nebraska Community Foundation, all contributions to the Nebraska Cattlemen Research and Education Foundation Fund are tax-deductible. The Nebraska Community Foundation is confirmed in compliance with the National Standards for U.S. Community Foundations and has met the nation's highest philanthropic standards of operational quality, integrity, and accountability. 
Online donations are available through the Nebraska Community Foundation website.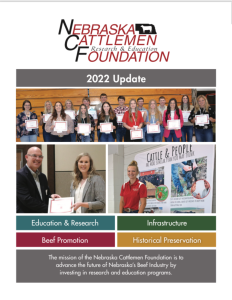 The 2022 NCF Annual Update is available now. To review online - click here. 
FOR MORE INFORMATION, CONTACT:
Lee R. Weide (NCF Secretary) 
(402) 475-2333
[email protected]

Jana Jensen (Fundraising Coordinator)
12870 Road 275, Bingham, NE, 69335
(308) 588-6299
[email protected]


---
2023 Nebraska Cattlemen Foundation Board of Directors
NCF President/NC Region 7: Ryan Loseke, Columbus
NCF Vice President/NC Region 6: Loren Berger, Stapleton
NCF Treasurer/NC Region 1: Jerry Underwood, Alliance
NC President-Elect: Jerry Kuenning, Lemoyne
NC Region 2: Kathie Martindale, Brewster
NC Region 3: Pat Meiergerd, West Point
NC Region 4: Clark Gotschall, Atkinson
NC Region 5: Dave Lamb, Anselmo
NC Region 8: Doug Parde, Sterling
NC Region 9: Randy Helms, Holbrook
Member at Large: Rex Peterson, Gordon
Member at Large: Craig Uden, Johnson Lake